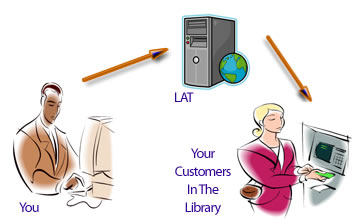 How does it work?

LAT-Sign™ works by randomly rotating your ads onto the printed receipts produced by the self-check machines at various library branch locations.
There are thousands of items being checked out by the library patrons every day. Most of these are done through the self-service machines. Every time an item, such as a book, is checked out, a receipt is generated, which looks something like this:
LAT-Sign™ then places your ad in front of thousands of local people that checkout materials at your library. Obviously, these are real people (not anonymous clicks), and they are local to your business.

So, if you are promoting a certain product, a special service or discount - you now have live, direct contact with people that can immediately take advantage of it, and drive revenue to your store.
Advantages:
Advertising and promotions geared towards LOCAL audience
Immediately generate traffic for your business
Since receipts where the ads are generated are used by patrons to know when their items are due, the receipts are never thrown away and are always in hand- your ads have a long lasting life!
Ads are completely controlled by you - change, modify, delete any time. Any changes you make are immediately applied.
Your ads carry an excellent "PR" potential as the revenues produced with this program are used to support your local library.